Car technical assistance on the road in Vilnius
Technical issues with your car or various unexpected faults during a trip can often drastically change your travel plans. In case of an accident or if your car breaks down, you not only suffer from a significant amount of stress but are also required to quickly sort out the situation.
Tralas 24h is a company with years of experience, providing roadside technical assistance 24/7 regardless of weather conditions or holidays. We transport various types of motorised vehicles and provide urgent technical assistance in Vilnius in all types of unfortunate events.
Our services are available to various companies as well as regular people. We are prepared to react promptly and competently to all calls from our clients, and guarantee repair work or a safe transportation of the car. We have all the necessary equipment, tools and technical resources we may need to provide technical assistance or transportation. We ensure that our services are provided well and with professionalism.
We provide services all over Lithuania as well as the neighbouring countries: Latvia, Estonia, Poland.
If your vehicle has suddenly broken down or you have run into any kind of problem and require urgent roadside technical assistance, call +3706 32 99 777 24/7 to receive comprehensive information regarding roadside technical assistance, a consultation, or how you should act following a traffic accident, or to request a technical assistance team to your location.
We can transport 1-3 vehicles at a time and can issue an invoice if needed.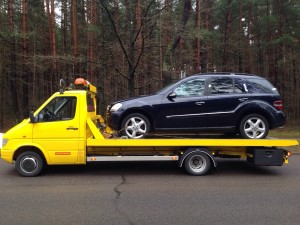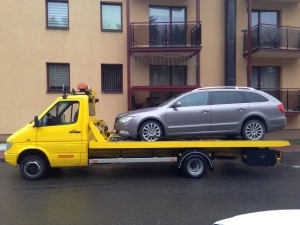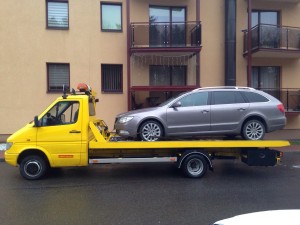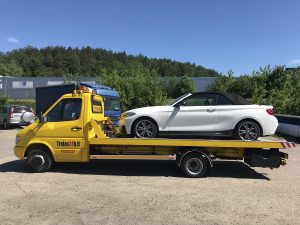 Roadside technical assistance – Vilnius 24/7
A trailer is on duty around the clock, so in case of a traffic accident or if your car simply breaks down on the road, we will be ready to quickly and reliably provide roadside technical assistance.
In case of a breakdown, we can arrive at your specified location, assess the technical state of your car and detect the causes of the failure. Based on the situation, we will either carry out repair work on site, or will transport your car to a garage for fault diagnostics and repairs.
In case of a traffic accident, crash or some other unfortunate event, the vehicle could be stuck or completely undriveable. In such case, the vehicle can be towed to a storage lot, a recycling plant or any other location you may specify.
The cost of technical assistance in Vilnius and trailer services usually varies from case to case and depends on several key factors: distance, location and the time when technical assistance was provided. The complexity of the situation is also taken into account, as well as vehicle parameters and technical state. The cost of roadside technical assistance services can be assessed over the phone or on site.
We have been providing professional services for a number of years, so we are able to offer them to our clients at the best price. We can also take up to two passengers along with the broken-down vehicle.
Fast and professional roadside technical assistance in Vilnius – services
Vehicle transportation – towing or moving cars with a special vehicle carrier in case of a breakdown or accident based on the client's needs.
Recovering cars and vans that have gone off the road during a traffic accident or mishap – the service is provided on- and off-road. Using special accident equipment, we will return your vehicle back onto the road surface without causing any additional damage.
Vehicle recovery when stuck in mud or snow.
Urgent fuel delivery – if you run out of petrol or diesel, we will quickly deliver fuel to a specified location. Before starting diesel engines, we will bleed the fuel system.
We can also safely transport sports cars with low suspension.
Repair services – we can diagnose and take care of faults in your car.
Emergency engine starting – if the battery is depleted, we use a 12 V direct current energy source (booster pack) to start the vehicle faster without causing any extra damage to the catalytic converter or the engine, and we can also replace the car battery with a new one
We can also transport various types of motorcycles, mopeds and quad bikes with a trailer.
We can move vehicle scrap to a recycling plant.
On-the-go tyre repair and wheel changing – we can repair tyres punctured during a trip regardless of their type, make or size. We also provide wheel maintenance services – we can undo various nuts and bolts that have been affected by corrosion or mechanical impact – both standard ones and those with specific profiles.
Emergency opening and unlocking of vehicle doors – if you lose or lock in your keys, we will help you open the door. We can make new keys based on the lock or reprogram an electronic lock. We also perform factory immobiliser programming, repair remote control key fobs and can turn off security and alarm systems. Before performing work on vehicle security systems, we always ask for personal and vehicle registration documents.
We can also transport various construction materials, structures, construction equipment and tools.
Trailer services – vehicle transportation – services available 24/7
We can transport the following vehicles:
Passenger cars
Vans
Motorcycles
Quad bikes
Off-road vehicles
Construction equipment